30 years of Yoga in Daily Life in Slovenia
4 - 6 October 2019
Celebrating the anniversary of 30 years since His Holiness Vishwaguru Mahamandaleshwar Paramhans Sri Swami Maheshwaranandaji brought Yoga in Daily Life to Slovenia, the Slovenian Union of Yoga in Daily Life organized a seminar and special celebration in Kranj.
The commemoration of the Slovenian pearl jubilee started with a weekend seminar in Kranj on Friday 4 October.
Vishwaguruji arrived directly from India on Saturday to celebrate this special occasion with Slovenian devotees and their guests from all around Europe. Vishwaguruji's special blessing to the Kranj YIDL Society was his visit to their center at the end of the seminar.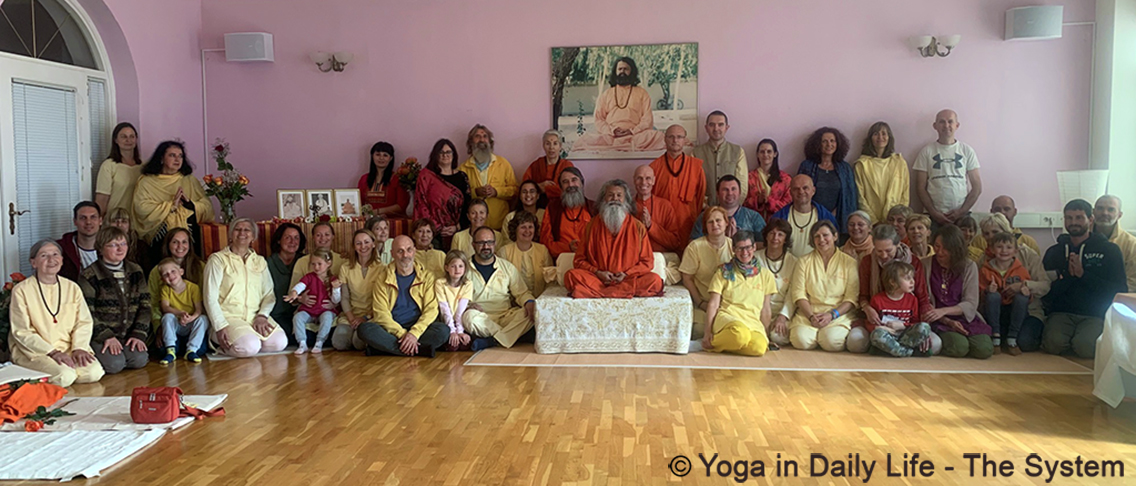 The main celebration took place after the seminar on Sunday afternoon, 6 October, in the beautiful hall of the Slovenia Brdo estate, near Kranj. Besides Vishwaguruji, author of the Yoga in Daily Life System, honored guests and speakers were President of the National Council of Slovenia, Mr. Alojz Kovšca and His Excellency Pamajit Mann, respected Ambassador of the Republic of India to the Republic of Slovenia.
Slovenian yoga practitioners were also honoured by the presence of two more Mahamandaleshwars from YIDL – Mahamandaleshwar Swami Gyaneshwarpuri and Mahamandaleshwar Swami Vivekpuri and many other distinguished guests from Slovenia and abroad.
The president of the Slovenian Yoga Union, Mr Jože Sraka, the president of YIDL Maribor, Professor Dr Dejan Dinevski, and Slovenian Swami Yogesh Puri, who is the main OM Ashram architect, residing in India, also contributed to the celebration with their speeches; and the audience enjoyed the positive energy brought by great musical performances at the beginning and end of the event.
Vishwaguruji thanked the Slovenian Yoga community for their dedication and devotion, and blessed all who attended the event as well as all citizens of the Republic of Slovenia.
Read more: YIDL official News article