Celebration of Raksha Bandhan with Swamiji, Strilky Ashram
The festival of Raksha Bandhan falls on the full moon day (Shravan Purnima) of the Shravan month of the Vedic lunar calendar. On Raksha Bandhan day, sisters tie a rakhi (thread bracelet) on her chosen brother's wrist. This symbolizes the sister's love and prayers for her brother, and the brother's commitment to protect her.
Children "buzzed" around His Holiness Swami Maheshwaranandaji when he appeared in the morning. The young children offered rakhis, special bracelets, as a sign of brother/sisterhood and friendship, to each other and their Swamiji.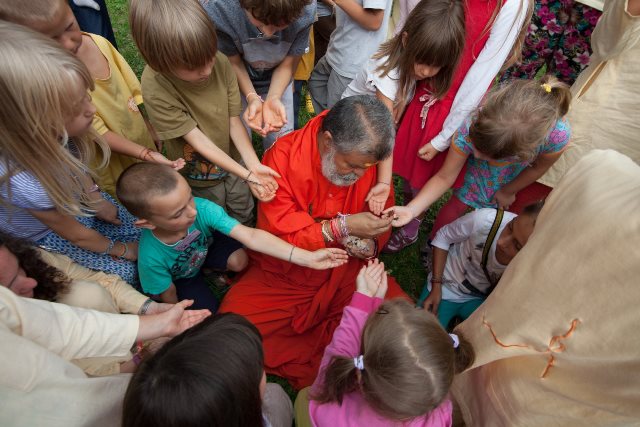 In the evening satsang, His Holiness Swamiji spoke about the importance of culture. He said culture is a protecting agent for dharma, for human moral and ethical values. His Holiness emphasized that offering the rakhi to the chosen boy or man is a bond that keeps not only the two of them together, but the whole society. The beautiful invocation in India is that they call each other 'mother', 'sister' or 'daughter', regardless of blood family connection. This helps the women feel relaxed and protected.
The Yoga in Daily Life System has celebrated Raksha Bandhan on the eighth full moon every year for already more than 20 years. In this way all participants agree and express their solidarity with equality and global support for women, in accordance with the United Nations Milleneum Development Goals.